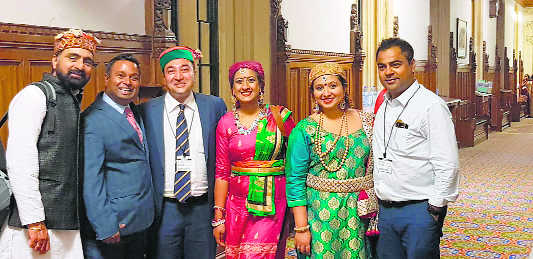 Bhanu P Lohumi , Shimla, May 24
Post Source :- TribuneIndia
It was a rare honor for Himachalis in England that famous folk dance Natti was among a few dances performed at British Parliament on May 21 to mark World Day for Cultural Diversity for Dialogue and Development. Himachali folk dancers enthralled the audience, including British officials.
The performance of Himachali folk dancers in traditional colourful attires won accolades from one and all. It was for the first time that Nattis on four songs, (three on Kullu and one on Shimla) were performed by folk dancers from Kullu and Shimla. With foot-tapping rhythms, Natti dancers joined hands and made the movement accordingly with music and rhythm and the costumes used included shoes, socks, churidaar pyjamas, silver chains, boomani, floral shawl, lachhi, gachi, ghaghra and chola.
For the first time, Natti was performed by the Himachalis living in the UK on the world cultural day," said Rahul Verma, who hails from Theog in Shimla district and is one of the persons behind the initiative.  The event was organised in the House of Lords of British Parliament by the Sanskriti Centre for Cultural Excellence hosted by Baroness Sandip Verma of the House of Lords.
Diplomats in the UK High Commission and Embassies of India, Nepal, Sri Lanka and the Maldives came together to speak on various aspects of cultural diversity from their country's perspective, while Members of British Parliament Lord Jitesh Gadhia and Seema Malhotra, entrepreneur Umesh Perera and senior politician Vijay Jolly highlighted the importance of cultural diversity for socio-economic development. 
The programme included presentation of indigenous dance forms of Bangladesh, India, Nepal and Sri Lanka. Other Indian dances presented were Kathputli from Rajasthan and Mathuri dance from Telangana. 
Read Original post at https://www.tribuneindia.com/news/himachal/a-first-natti-performed-in-british-parliament/594441.html